If you're like me and haven't heard of Safety Innovations, you might know their parent company, Safe Beginnings. Safe Beginnings has the largest selection of carefully selected baby products for your home. Here's a little information about Safety Innovations:
Safety Innovations is a division of Safe Beginnings, Inc. At Safety Innovations, we designs our products for use by safety professionals. This means that they are designed with high quality and the utmost attention to minor details in order to obtain positive results. We are concerned with safety, solutions, quality and results before we even start talking about cost. Most manufacturers set a price point before they even know what has to be done in order to prevent future accident and injury, this is not the way we work.
Safety Innovations was kind enough to send me a deluxe top door lock (there's also a bifold door lock) to install and review. Due to some unforeseen circumstances, I am a week behind schedule, but...the lock has been installed and tested by one little monkey. We chose to install one (they come in a pack of 2) on the door to our laundry room, which also happens the door that leads to the garage door.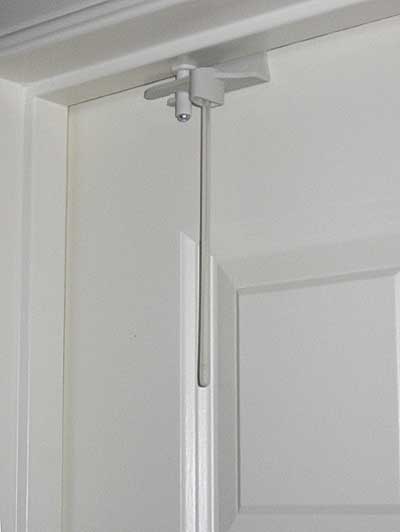 It's a fairly simple concept, but you mount a peg to the door frame and the door lock itself simply rests on top of the door. There's a notch cut out in it and you slide the lock, along the door, toward the peg to lock it, or away from it to release it. I'm sure my technical description there is incredibly helpful. You might find some pictures more useful.
Some of my favorite parts of Safety Innovations top door lock are:
It's very easy to install with minimal assembly

For us, it completely blends in with our white doors

It's simple and easy to use
There is a wand that can be attached to help people operate the door lock, but I found that to be more difficult to use. However, it is provided for those that might need it.
Overall, I found the door lock to be effective, minimally obtrusive, and easy to install. Another key point to note is that it's not for use on exterior (or oversized) doors, but Safe Beginnings has plenty of other options. In fact, you'll find all kinds of useful safety products there. One thing I have my eye on is an exterior gate for our porch.
Check out their website, http://www.safebeginnings.com, and I bet you too will start making a list of the things you want to get to help protect your little monkeys. Thanks again to Safety Innovations and Safe Beginnings for letting me try the deluxe top door lock.
Safety Innovations/Safe Beginnings is also letting me host a giveaway to win a 12 pack of these door locks.
How To Enter:
(The first step is required for your first entry. Any steps after that reward you with an extra entry.)
This giveaway, and subsequent shipping, is only offered within the continental United States.
1. Go to
Safe Beginnings
and leave a comment on this post telling me what other item(s) they carry that interests you.
2. Become a follower of my blog, Mommy 2 Monkeys, and leave a comment on this post that you've done so.
3. 'Like' Safe Beginnings on
Facebook
and leave a comment that you did so.
4. 'Like' the
Mommy 2 Monkeys Facebook page
and leave a comment on this post that you've done so.
5. Follow Safe Beginnings on
Twitter
and leave a comment that you did so.
6. Follow me on
Twitter
and leave a comment on this post that you've done so.
7. Place my button on your blog/website and leave a comment on this post that you've done so.
This giveaway will remain open until June 11, 2010 at midnight central time. The winner will be chosen using Random.org. I will post the winner on my blog and also email the winner (please make sure your email is visible on your profile or post it in your comment). The winner will have 72 hours to respond to my email or I will choose another winner via Random.org. Good luck!
Mommy 2 Monkeys was provided with a sample for the purposes of this review and the opportunity to host a giveaway for my readers. No other compensation was received and the views expressed here are my own.